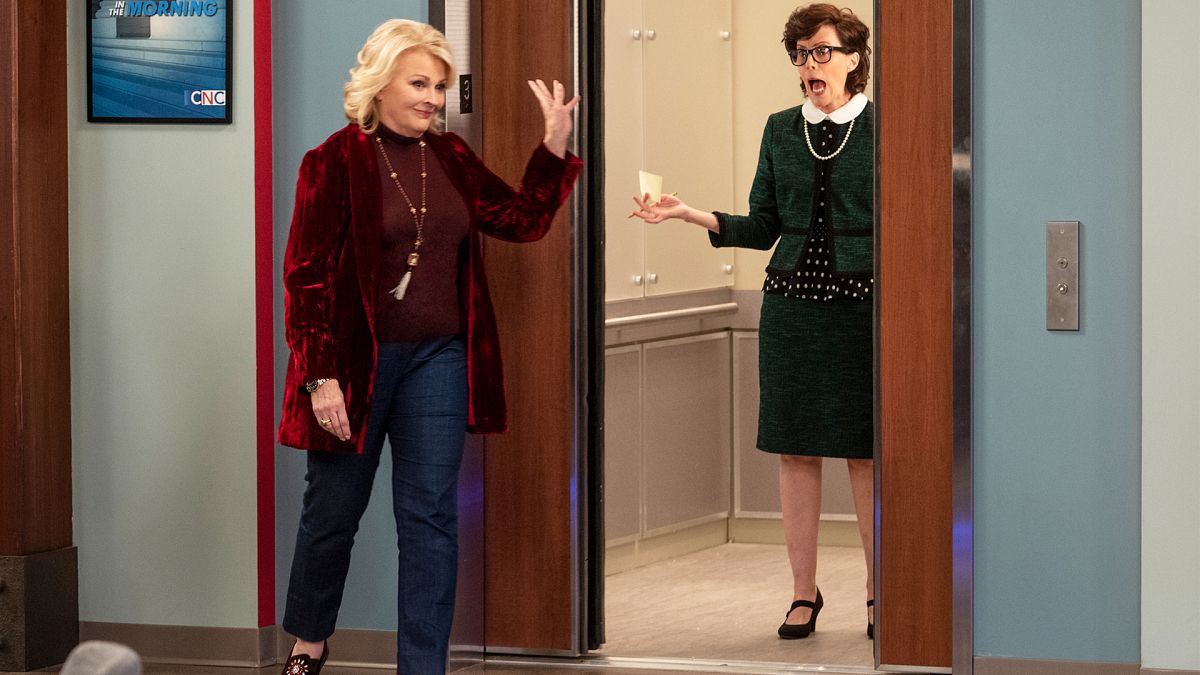 Written by Ashtyn Tardif
Can you believe we are already eight episodes into the comeback of Murphy Brown?! If you missed an episode along the way, we've got you covered on the style, but let us introduce you to one of the best sources for all things Murphy: '
FYI- The Murphy Brown Podcast'
cohosted by mega fans and Murphy Brown experts 
Jesi Mullins
& 
Lauren Milberger. 
Everyone be sure to check out their podcast each week for an entertaining auditory experience that will keep you laughing, smiling and informed about the show. Now- onto the fashion! Corky had a fashionably filled episode with a total of four outfit changes (yes, they were all fabulous). We spotted a few fans on Twitter asking about where her ribbon motif sweater was from, and for all curious, it is a Michael Kors cashmere sweater that we unfortunately could not find online.
Additionally, as much as we would have loved to do a style guide for fabulous guest star, Brooke Shields, her hospital scrubs didn't provide a significant sartorial moment so we had to pass on that one. Being in a coma for ten years doesn't exactly provide much room to pull a look!
Also, can we talk about Pat Patel's major mustard suit moment? We are here for it! As the show progresses, Pat has become the character to low-key turn out LOOKS, each week we look forward to his eccentric yet oddly stylish ensembles. Who is your favorite style star this season? Let us know in the comments!
*Note: Although we do our very best to be as accurate as possible and to cover each and every look weekly, it can be very difficult to find exact items used in the show and very time consuming. We love being able to cover the looks each week, and are happy to try and answer any questions anyone has.
 If anyone knows how to wear a layered look, it's Murphy. She's proven to be the unsung queen of subtle, yet eclectic accessories.
Come through cranberry look! I don't know about you guys, but this outfit is giving me serious holiday vibes. I might have to recreate this for an upcoming Christmas party.
Personally, I'm adding that fuchsia Helmut Lang cropped sweater to my Christmas list.
Ok ladies, now THIS is how you do athleisure! Those stretch booties are EVERYTHING.
We love a good sweater dress moment, especially when it's Marc Jacobs.
Mile's Zara brown coat was a welcome deviation from his usually blazer and chino look. Every man needs a coat like this in their winter wardrobe!
Aaaand we're back to the usual get-up. But we appreciate the color scheme and patterns going on here.
Blue is definitely Joe's color, no?
Avery with glasses on? Yes please. Also, this neutral gray ensemble is polished and perfect.
A more demure look from Pat, if you will. Loving the Topman bandana utilized as a tie.
This mustard suit moment has got to be one of our favorite looks so far! There is so much going here, color aside. Between the patterned tie, striped pocket square and fierce leopard shoes, this is a total WIN.