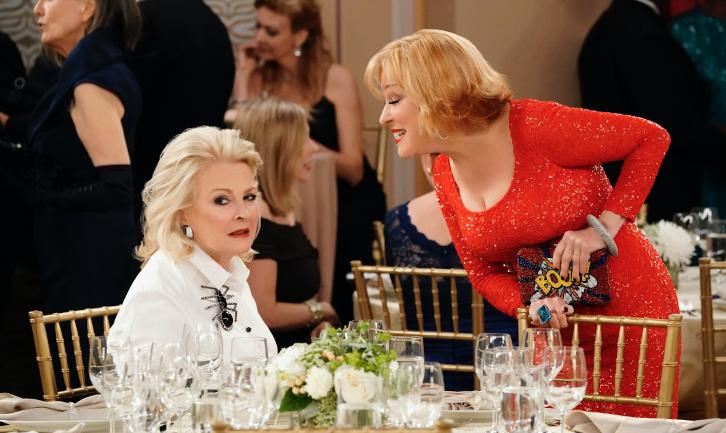 Written by Ashtyn Tardif
Episode 7 of Murphy Brown is arguably the most fashion packed and star studded one yet!
Murphy and the gang get all gussied up in honor of Jim Dial, who is receiving a lifetime achievement award presented by none other than Katie Couric. But wait- there's more.
For the old school Murphy Brown fans, Bette Midler's reprisal of 'Caprice', (Murphy's worst assistant ever, apparently) brought a welcome bout of nostalgic humor from season's past.
So what did everyone wear? You'll be surprised at some of the style spoilers packed into this week's style guide, so keep on reading for all the details you won't get anywhere else!
True to her style, Murphy's black tie outfit appropriately featured her signature eclectic touch with a bejeweled spider pin, which was actually something Patricia found in the Bergdorf's Vintage Designer Costume Jewelry department. The pin paired perfectly with her Carolina Herrera gown, serving elegance, yet refined professionalism at the same time.
I can practically hear Joan River's screeching "B*tch Stole my Look!" which is probably the exact thought that crossed Corky's mind when she saw Katie Couric in the exact same dress as her. Fun fact: this dress was custom made by one of Pat's dear friends and one of our ArtFashion artists, David Dalrymple.
Murphy's worst assistant is back, and she's had a serious sartorial upgrade! Bette's metallic platforms are actually from Pat's personal closet. Some years ago, she did a collaboration with Payless and this shoe is from her 'Hollywood' collection. Bette claims they are the most comfortable platforms she has ever worn in her life and has borrowed them a few times since the filming of this episode for various other events. Can anyone else honestly claim that Bette Midler borrows their shoes? 
I have a serious need for that Judith Leiber clutch, anyone else?
Miles came onto the scene blazing red hot (and slightly reminiscent of a flaming hot Cheeto). I seriously dare someone to recreate this look, fleur de lis rhinestone pin and all.
We can always count on Frank to look dapper and refined. This Calvin Klein tuxedo is classic.
Avery traded in his signature style staples of plaids, leather, and denim for a Burberry suit that any man would be lucky to own. Très chic, Avery. Side note: Avery introduces his date (Analeigh Tipton) to Murphy who just so happen's to be Jake's real life girlfriend. For anyone curious, the velvet green dress Analeigh wore was Gucci.
 This was a MAJOR episode for Pat Patel, and not just because he ditched his usual frames for some contacts. Pat was proudly debuted as the first openly gay character in Murphy Brown history, and did so in the best way possible- in a metallic blue suit.
Everyone welcome Phyliss to her first style guide! Ditching her usual apron, Phyliss stepped out in amazing Teri Jon belted floral gown complete with (all her own) jewelry. Who know that all of that jewelry could work at one time? Also, I'm feeling the streaks of darker grey in her hair, low key bad-ass, Phyliss.