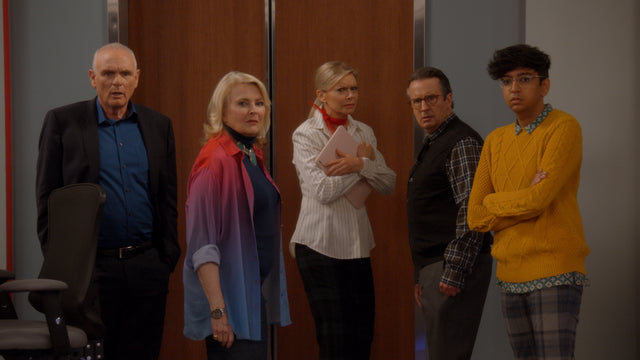 Written by Ashtyn Tardif
There's a leak on Murphy in the Morning and fingers are being pointed in all directions. Was it *gasp* Murphy's own son, Avery? Or a mysterious new conservative lady *bigger gasp*  in Frank's life? This past episode had everyone scrambling for answers as to who stole their big story, (complete with receipts okkuurrr) about a major pharmaceutical company that was deliberately flooding the market with a highly addictive synthetic opioid. With a drama packed episode like this, it's only right that the outfits brought the same level of intensity right? Our leading ladies Murphy and Corky served us not two but three looks this week so let's get into it!
In a rare whimsical twist, Murphy donned this Sies Marjan ombre shirt for a moment of laid back style.
Fun fact: this fierce Altuzarra jacket is actually Candice's own piece from her personal closet.
Murphy is serving some serious Fall inspo with her light blue cashmere coat, I don't know about you all, but I seriously need this piece in my life.
Hello Faithinsta! This ensemble had us green with envy and adding some notes to our style bible. Rocking three different shades of green in one outfit? Low key iconic.
Need to spice up a simple outfit? Throw on a fun kerchief to level up your style game in a simple, easy, yet chic way.
We are living for this black and white look, like HELLO Gianvitto Rossi houndstooth boots, get in my closet!
Purple is definitely Frank's color. if you all remember, he rocked a purple color scheme for a few of his past outfits.
Avery switched out his signature leather jacket look for a more refined Ralph Lauren corduroy jacket.
Is it even a Pat Patel outfit without a mix of funky patterns and a bold color?
Not gonna lie, we would 100% rock that Kenzo sweater too.