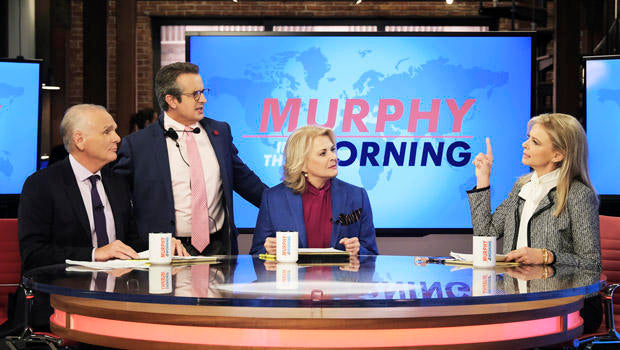 By: Ashtyn Tardif
Guess who's baaaack? Last week on CBS, Candice Bergen, Faith Ford, Joe Regalbuto and Grant Shaud reprised their roles on the big screen as the infamous 'Murphy Brown' crew, and guess who dressed them? That's right, Pat Field.
Fun fact- Pat actually never watched the original Murphy Brown series, so her style approach to this revival was classic, yet fresh, and of course sprinkled with her signature style twists. 
Lucky for all of you, the Field Files decided to share all of the fashion behind the new Murphy Brown revival, so you too can snag Murphy's colorful blazers, Corky's covetable blouses, and new-comer Pat Patel's funky yet fresh kicks. Stay tuned each week as we unveil our style guides as the episodes air, and be sure to watch new episodes of Murphy Brown on CBS Thursdays at 9:30 EST and keep up with the show on Instagram @murphybrowncbs.
Want to see a specific look? Just ask! Email ashtyn@patriciafield.com or DM us on Instagram @patriciafield for alllll the fashion tea.
Without further ado, check out the pilot episode's style breakdown.
Murphy's Martin Greenfield jacket was actually custom made just for her, check out the famed clothier for absolutely impeccable fits and styles.

Corky's Chanel Inspired look is the perfect embodiment of stylish professionalism.
Frank Fontana returned with a stylish bang, complete with a purple and lavender color palette. Who said men can't wear color to the office?
Miles is definitely more classically sartorial than his fellow co-stars, but there's nothing wrong with being classic!
The first episode introduced a new character, Murphy's all-grown up son, Avery. Pat mentioned that she gave Avery a "rugged" kind of style that meshes perfectly with his down-to-earth personality and charming facial scruff. Anyone else have a mild crush on him? (I'll try and ignore the fact that he works for a network that is a not so subtle nod to Fox News).
Pat Patel is another fresh face on the Murphy Brown crew, and we have a sneaky suspicion that he will quickly become a low-key style icon for all of the quirky yet totally lovable nerds out there. Pat's vintage button up is just that- vintage, so we couldn't find an exact replica, but we got pretty close!