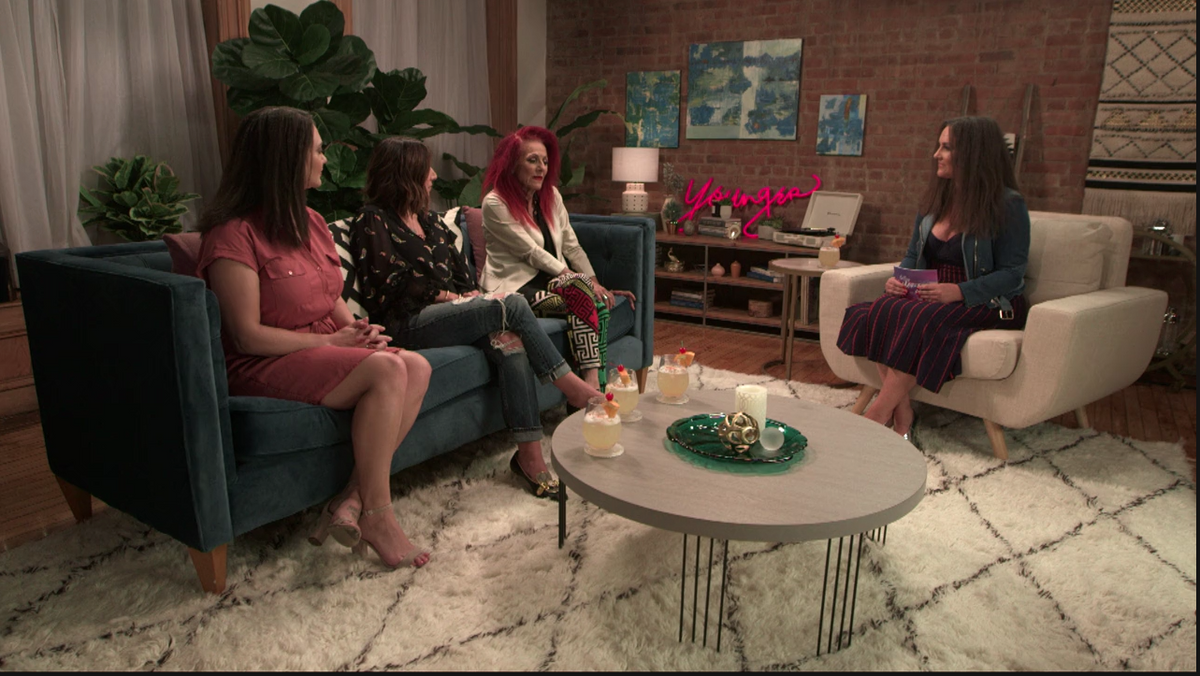 Calling all Younger Fans- have you been keeping up?!
During a recent
Facebook live
hosted by Taylor Strecker,  Pat and costume designer Jackie Demeterio shared some of their favorite outfits of all time and answered the burning question on everyone's lips-  Team Charles OR Team Josh?
While Pat is definitely on #TeamJosh (I mean he is ADORABLE), Jackie confessed that she's ultimately #TeamCharles, stating that he's the more "appropriate" choice for Liza. We can all agree to disagree but at the end of the day, Liza's a lucky gal.
Love triangles aside, Pat and Jackie also shared which outfits from current and season's past are their favorites and why:
Pat Look 1:
Liza was serving "whimsical yet professional chic" with this hand-painted collared button down by ARTFASHION artist Scooter LaForge. Fun fact: Jackie had originally picked out a Marc Jacobs blouse for this look but Pat felt this shirt would be perfect for Liza because it's "fun and playful, just like Liza." Get your hands on your own hand-painted tie shirt here!
Jackie Look 1:
When Kelsey attended the 30 under 30 event for W magazine last season, she donned this Gucci floral dress that was actually a shirt! That's right, a shirt. Jackie shared that they lengthened the bottom to turn it into a dress. BTW, am I the only one getting some slight Carrie Bradshaw vibes from this look? Call me crazy (or not).
Pat Look 2

It's hard to believe that this "She's the Boss" cape wasn't custom made specifically for Diana because who else could wear it this fiercely? This outfit was a match made in sartorial heaven. Artist Iris Bonner of Thesepinklips hand-painted this cape for Pat's ARTFASHION Gallery so if you're wondering where it's from, look no further. Channel your inner Diana on the outside with your very own 'She's the Boss' apparel available here.

Jackie Look 2:
 This is the perfect above and beyond look for an above and beyond character. What better way for Lauren to attend a Marriage Vacation book party than by wearing a festive cone bra? Designed by James Cabiello, this look nodded to Madonna and the infamous Gautier bra.
Pat Look 3

If you can get past the fact that Liza is barefoot in an NYC overpass, take a minute to appreciate the fabulousness of this Season 3 promo shot. According to Pat, she absolutely "died" over this Oscar de La Renta layered tulle gown, a sentiment shared by many. 

Jackie Look 3:

Sneak peak alert! Jackie's third look is Givenchy suit that Maggie wears later in the season, but it was too good not to share as one of her favorite looks. Fellow Facebook live participant Emily Longeretta put it perfectly when she said "Maggie is the only person who could look sexy without showing an inch of skin." I don't know about you guys, but I feel strongly that I need this power suit in my closet.
For all the tea on Younger spilled by Jackie and Pat, check out the full video here and stay on the look out for future posts dishing all the deets on this season's style, right here on the Field Files.