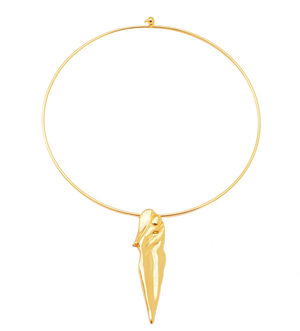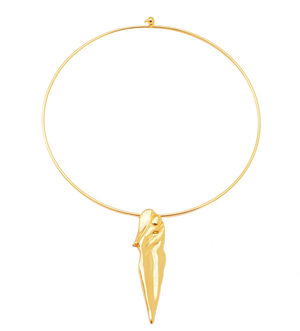 On Sale
LOVERS PENDANT NECKLACE gold-plated brass on gold plated stainless neckband
OR 4 interest-free installments of $51.25 USD by  
This handmade pendant, depicts an intense embrace of love between a man and a woman.  This handmade piece is intended to celebrate the importance of love through its edgy and modern shape. The strong, almost armor-type shape, signifies the strength and endurance of real love. Its very subtle image of this embrace is like a beautiful little secret from those who do not initially recognize its meaning. 
Available in gold-plated brass and silver- plated brass and comes with a black tie leather cord which can be worn at multiple lengths.  Additional Chains and leather necklace components are available at the components links.
68x16 mm.
CARE:
 As these pieces are gold or silver-plated, exposure to chemicals such as bleach, chlorine, hairspray, lotions, repeated washing or showering, and/or everyday use may affect the plating.